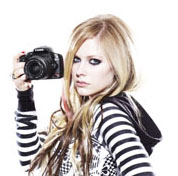 Name: Avril Ramona Lavigne
Birthday: September 27, 1984
Age: 24
Star Sign: Libra
Hometown: Napanee, Ontario, Canada
Currently Living in: Los Angeles, California
Shoe size: 7
Height: 5'3"
Hair Color: Blonde
Eye Color: Blue-Green but originaly brown
Family:
Parents: Judy and John
Siblings: Matt, Michelle
Spouse: Deryck Whibley
Pets: a miniature schnauzer, "Sam"

Favorites:
Colors: black, red, pink
Pizza Toppings: Olives
Clothes: Dickies, Osiris (shoes)
Bands: Goo Goo Dolls, System of a Down, Matchbox 20, Green Day, Sum 41, Blink 182
Song on her first Album: Losing Grip
Places To Visit: Italy, Paris, and Stockholm

Other Info:
Instruments: Guitar, she taught herself how to play, piano, drums
Piercings: Navel (Inny), 2 in one ear, one in the other
Special Talents: Can bite and suck her toes
Tattoos: 'Avril' star on the inside of her left wrist, a 'D' in a heart on her right wrist, a blue star on her leg, a blue star on her back, a blue star on her right forearm, a red star on her right arm, a black star on her hip.
If she weren't a singer: She'd be a police officer, because she likes authority.
First Solo Performance: "Near to the Heart of God," at a Christmas Concert. Vancouver Canada was her first real concert (a radio show)


Did You Know...?
? Avril was parodied in Good Charlotte's video, "Girls and Boys".
? Michelle Lavigne appears in the Sk8er Boi video.
? Avril got free Osiris sneakers at the mall where the Complicated video was shot.
? Avril's cousin, Martine Filion travelled to Ottawa (from Napanee) just to see Avril perform.
? Avril fixed her hair in braids all around her hair when she was in 11th grade.
? Avril is good friends with Pink and Vanessa Carlton.
? Avril's brother, Matt, accompanied her to New York City when she was still starting out.
? Once, in New York City, a man thought that Avril was a hooker. She's been carrying around a pocket knife ever since that incident.
? She wasn't the most popular girl at school.
? One of Avril's favorite countries is Italy.
? Avril's favorite song off of Let Go is Losing Grip, her favorite off of Under My Skin is Together, and her favorite off of The Best Damn Thing is I Can Do Better.
? Avril is lactose intolerant.
? Avril taught herself to play her dad's 6 string guitar when she was 12.
? Avril plays the guitar live on stage.
? You can see Deryck Whibley frequently at Avril's concerts.
? Justin Timberlake and Eminem are big Avril fans.
? "Let Go", her CD, was originally called "Anything But Ordinary".
? Avril's most embarrassing moment was when her mom went to pick her up at a party when she was 14.
? Avril chooses to wear a watch on her right arm.
? She sang her first church solo when she was 10. She sang NEAR THE HEART OF GOD, "She sang like a song bird" remembers her mom. (YM October 2002)
? Listed in Teen People's "What's Next" 2003.
? She frequently says that she has not claimed to be punk. Check out YM June 2002.
? Avril's manager, Terry McBride is also the manager for Dido.
? Avril got her record deal at age 16.
? She played on a hockey team at age 10.
? Hilary Duff dressed up as Avril on Halloween.
? Avril gets kicked out of clubs and bars frequently.
? She likes to play her acoustic guitar better when she first writes her songs and than she likes to play the electric during her concerts the best.
? She brings along a joke book while her and the group travels.
? Avril plays a Gibson-Les Paul Studio in Black, and her own signature Fender Telecaster.
? Her fav. article of clothing are her Converse sneakers.
? She was signed to Nettwork at age 14 when she was at a bookstore.
? Avril does NOT do all of her own make-up. She gets help from professionals during photoshoots, and music videos.
? Avril's High School was called 'Napanee District Secondary School'.
? At the age of 12 she won a radio competition to duet with Shania Twain.
? She likes the UK alot but she finds it expensive and she doesn't like the weather!
? Avril can fit into the suitcase which she takes on tour with her.
? She got suspended from school three times for skipping lessons and starting fights.
? Her middle name is Ramona.
? She gave Steve from Sum 41 a wedgie recently at a club in NYC.
? She cannot eat her favourite food pizza because it is bad for her voice+vocals.
? She used to use a camo lunchbox as a wallet.
? She won't pay $6 for a sandwich. "That's soo much."
? When she was looking in a BMW car showroom her dad said why don't you buy one, but Avril got angry and said she just wanted a used jeep!
? She says she could pull off a backside ollie kickflip when she was in High School.
? She can ollie over her miniature schnauzer, Sam.
? Avril doesn't like copy-cats. She is flattered that girls dress like her, though!
? Avril doesn't like to follow trends and wears whatever she wants.vril.
? Avril once kissed a boy on the cheek in 1st grade....don't worry, it was in a play.
? Avril taught her self how to skate, when she was just 14.
? Avril uses peach lipstick or tanish white. Avril uses chapstick most of the time.
? If Avril would make a sandwich to eat it would have: olives, lettuce, tomatoes, pickles, mayonnaise and ham/or turkey meat.
? Avril loves pizza that has lots of olives on top.
? Avril's Favorite sodas are: Coke, Grape, and Root Beer
? Avril loves sleepovers. "I love being with the girls."
? Every month, Avril goes to a special place in Hollywood to get a Brazilian Bikini Wax.
? Avril says she had a love for music at an early age. "When I was like six, I had this little plastic flute thingy and I liked to march through the house blowing it. I was a good blower. It drove my mom crazy though!"
? Avril likes to wear black and white stripe socks.
? Avril has two piercings on her left ear and one on her right ear.
? Avril has asthma.
? She was named the MVP of her hockey team when she was 12.
? Avril loves the feel of new socks on her feet.
? Like any other Artist Avril works out. She does 50 push ups a day but not Sundays. She skateboards, goes rock climbing, rides the bike for 1 hour a day and does 100 sit ups.
? Avril knew at the grammy's she wasn't gonna win, she told one MTV reporter, "Naw, I am not gonna have it..I am not gonna win."
? Avril can't eat really spicy food because she gets heartburn.
? Avril likes the band Simple Plan and had them open up a gig for some of her tour stops.
? An interviewer asked Avril what posters were on her wall. She responded, "Posters? I've got platinum disks!"
? Avril is allergic to bees.
? Avril felt bad about the "fried chicken ass" line in "My World," and went back to apologize to the manager of the chicken place she worked at.
? Avril used to be afraid of flying in planes.
? Avril loves playing video games.

Did you know...? from alavigne.com